Friday, October 27, 2006
courtesy of Blyden Potts, Green Party
Thursday, October 26, 2006
Chapter and Verse: 5
on
saturday: oct.28th: 8pm: chapterhouse cafe and gallery: 620 S. 9th st. chapter and verse: 5: features: Eric Baus; Will Esposito; Laura Solomon; Jessica Lee White
bios below: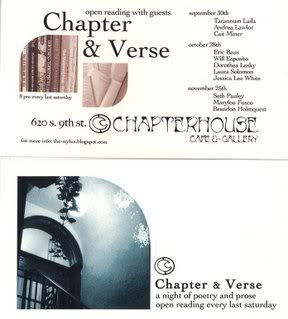 Eric Baus
is the author of The To Sound (Verse Press/Wave Books). A new chapbook, Tuned Droves, is forthcoming from Katalanche Press. He currently lives in Philadelphia where he edits Minus House chapbooks.
Will Esposito
is a member of PhillySound, an editor of Angelina Jolie Poetry, and the author of Friedrich Schiller Von Von (forthcoming from Katalanche Press) and The Students of Prose and Conduct. He lives in Philadelphia and can be reached at will.esposito@gmail.com.
Laura Solomon
was born in 1976 in Birmingham, Alabama, and spent her childhood in various small towns across the state before moving to Georgia at sixteen. She studied at the University of Georgia and University of Massachusetts at Amherst. Her publications include the books Bivouac (Slope Editions 2002) and Blue and Red Things (forthcoming: Ugly Duckling Presse 2007), the chapbook Letters by which Sisters Will Know Brothers (Katalanche Press 2005), and Haiku des Pierres / Haiku of Stones, by Pierre Converset, a translation from the French with Sika Fakambi (Apogee Press, 2006). Laura's poems have been translated into French, German, Italian, Slovenian and Spanish, and have appeared in journals throughout North America and Europe. Currently, she lives in Philadelphia.
Jessica Lee White's
poems have recently appeared in Poetic Language (www.eratiopostmodernpoetry.com). She holds BAs in English and Spanish from Temple University, where she served for two years as president of the undergraduate feminist alliance. She currently works with Hispanic clients at a disability law firm, and her writing continues to reflect a strong attentiveness to both women's issues and the Latino community.
2 FANTASTIC LINKS JUST SENT MY WAY
THANK YOU HEATHER!
Wednesday, October 25, 2006
AMY GOODMAN TO THE RESCUE!!!!!!!!!!!!!!!!!!!
Tuesday, October 24, 2006
LET'S TAKE THE VOTE BACK DESPITE THE BASTARDS THINKING THEY ARE TAKING IT AWAY!
Monday, October 23, 2006
_________IT'S OUT!_________
THIS FRIDAY!
Sunday, October 22, 2006
EMAIL FROM Blyden Potts, who heads the Administrative Committee of the PA Green Party
Heather Fuller sent this...
PLEASE READ THIS E-MAIL FROM Traci Confer, Platform Committee Co-Chair of the Pennsylvania Green Party
Saturday, October 21, 2006
VERY IMPORTANT! has anyone else heard of this? NOW I'M WRITING ROMANELLI IN!
Friday, October 20, 2006
Back to the Black & White Hats
____*____ROBIN'S EVENT____*____
re: voting my values
Thursday, October 19, 2006
voting my values
CAConrad Interview
a box of longing...
Peace on Earth (Christmas Card 2004)
THIS NOVEMBER I'm voting my values!
Tuesday, October 17, 2006
Superhero Vision
Monday, October 16, 2006
Creepy Crawly SCARY PEOPLE!
HOW IS THIS POSSIBLE!?
Tuesday, October 10, 2006
PHILADELPHIA SUPERNATURAL CITY POETRY WORKSHOPS
Monday, October 09, 2006
A MUST SEE EVENT THIS FRIDAY
She Hates Me
Sunday, October 08, 2006
Philadelphia Cares Day
Friday, October 06, 2006
Wednesday October 11- Joseph Massey and Dorothea Lasky!
Thursday, October 05, 2006
her new BLOG
Tuesday, October 03, 2006
THANK YOU Will Esposito...
Treadwell ON Silliman ON Pattie McCarthy's VERSO
((O))(((( WEEKEND OF POETRY ))))((O))
Sunday, October 01, 2006
Richard Lopez sent two William Wantling links!
Kathryn Pringle's letter to W