Saturday, June 24, 2006
reading Fanny Howe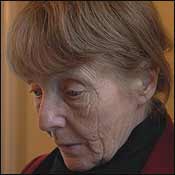 I thought I was happy and said to my friend
It's because we are together
The blushing hills were rusty
its nerves as icy as his sleeves
Doll's hair, snow like artificial
Elimination of detail, a day to be grateful
He had broken parole
With speed-thinning strides
a horse passed by without a saddle
-------
Overwhelmed by reading Carol Mirakove's new book
MEDIATED
, I did what I often do with such books: turn to another book, sometimes any book of poetry. It's a good thing to do, I find, to then return with a fresh palate. The book I turned to was a chapbook by Fanny Howe titled
The Long Wrong
. Edited by PhillySound's own Alicia Askenase four years ago as part of the "Whitman Notables" series for the Walt Whitman Center.
Don't mistake my idea of switching books to find one less passionate, it's got nothing to do with such lessening, it's got to do with switching, period, in an attempt to get clarity. But
The Long Wrong
needles its way into your reading like a daydream that hunts you down. Is there a recording of Howe reading this? You too would hope so, reading it....
-------
A body never forgets
The lens is turned on its own tremendum
Only blocks away--tubes, needles, straps
at the physician's prison
No sign of reflection, just blood and bone
trying to incorporate meds into atoms
When the body escapes without identification
this is its identification:
Chunks of moonstone smoothing a curb
Honey night snow in the city
-------
WOW! What a book!
Only 16 pages, and it could go on for a thousand more! And by page 300 I'm sure I would want to switch back to Carol's book for some space from the hunt! Will come back soon with more on Mirakove's
MEDIATED
, just wanted to share a couple pages from Fanny Howe's chapbook.
CAConrad