Wednesday, March 15, 2006
Mehmet Tarhan is free!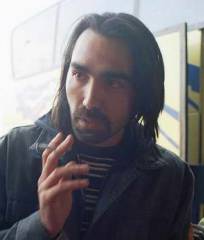 So this afternoon I called the offices of the Philadelphia Gay News to ask if they were going to cover the release of Mehmet Tarhan. The answer was no, they hadn't planned on it.
I hate that fucking rag!
If the story isn't about the gay republican awards to Philadelphia's biggest Wall Street queens then the story doesn't exist! Well fuck them!
This story DOES EXIST! It couldn't be more fucking real!
PGN also refused (I very much prefer to say
refused
) to show up across the street from City Hall when the
Global Women's Strike
and the
Refusing To Kill
activists were there to rally in support of Mehmet Tarhan when he was in prison, beaten, humiliated, tortured. Why should they bother even acknowledging his release, right?
Well, it's time to raise a glass, toast a very brave man! A man who DID NOT give into a tyrannical government's bigotry and demands to join the army, nor the demands to be subjected to the state's determined arguments and classifications for WHAT is a homosexual.
Right now I really wish I was somewhere where a WHOLE LOT OF PEOPLE were celebrating this incredible victory for gay rights, and for those who refuse be part of the military machine!
CAConrad
below is from a press release sent around today from REFUSING TO KILL:
-------------
Mehmet Tarhan, gay Kurdish conscientious objector, was released from military prison on 9 March. The highest military court of appeal in Turkey (the Military Court of Cassation) ruled that he had been punished enough for his "crime". His crime was refusing to kill.
Mr Tarhan had been in prison since 9 April 2005: serving a sentence of four years. The Turkish army tried to break his resistance with abuse and torture, he was often put in solitary confinement and twice went on hunger strike to win equal treatment with other prisoners.
After the court's judgement, Mehmet Tarhan was taken to the recruitment office where he was ordered to present himself to his military unit. He refused to obey and instead went home to his family.
"It's important to be able to touch each other and maintain communication. There has been much strain on me throughout this ordeal, but if we can maintain this solidarity we can gain the strength to continue the struggle and put pressure on public opinion." Mehmet Tarhan
His release is a victory first of all for his determination to refuse the army's "offer" of avoiding the draft by allowing himself to be classified as "ill" because he is gay. He refused to submit to an anal examination, the equivalent of the notorious "virginity test", used for decades by the Turkish police and army as a pretext to perpetrate rape and other sexual violence against women, Kurdish and also Turkish.